Chicago crime maps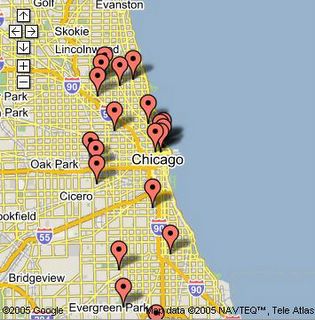 Deceptive practice / Fraud or confidence game

Chicagocrime.org
has nifty views of crime in Chicago. You can browse by date, type of crime, street, type of location (ATM, Abandoned building, Airport/aircraft, Alley, etc.). (via
O'Reilly Radar
)
It remixes Google Maps with the Chicago Police Department's
Citizen ICAM Web site
. The Citizen ICAM site is pretty useful on its own. It limits your search in some ways: you can only cover a small area, and you can only search 2 weeks at a time. On the other hand, you can really
search
and not just browse, which the chicagocrime.org site is limited to (so far). The CPD's site lets you combine date, address/intersection/beat, and type of crime. It also uses different symbols for property and violent crimes, rather than just generic G flags.
The chicagocrime.org site is definitely more fun, though. "
Unlawful use of recorded sound
" sounds more like a job for the RIAA than the CPD — but I'm too lazy to actually find out. Most crimes map fairly well onto poverty * population density. But not everything. "
Unlawful use of a computer
" falls overwhelmingly on the North Side. And it sure looks like a pattern of selective enforcement for "
Possession: Cannabis less than 30 gms
."
In some ways, I am disappointed in my fellow Chicagoans. How can we keep up with New York and Miami when we have nothing under "
Ritual Mutilation
?" And
bribery
isn't much better: a paltry three offenses (However, both sites stress that they can show only
reported
crimes.).